Vatel Bahrain General Director meets French Ambassador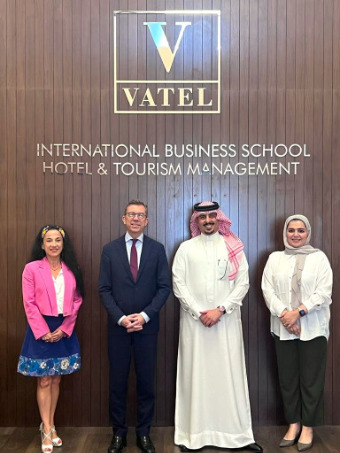 Manama, Oct. 17 (BNA): Shaikh Khaled bin Khalifa Al Khalifa, General Director of Vatel Hospitality & Tourism Business School, met with Eric GIRAUD-TELME, the newly appointed French Ambassador to Bahrain.
The general director congratulated the ambassador on his appointment and wished him success in his new diplomatic role.
He briefed the ambassador on Vatel Bahrain's mission and objectives, underscoring its dedication to upholding the values of French excellence in the field of hospitality.
The two sides discussed potential avenues of collaboration between the college and the French Embassy, aimed at further advancing the college's mission and bolstering the hospitality industry in Bahrain.
Shaikh Khaled bin Khalifa emphasized the college's role in boosting the development of the tourism and hospitality sector, not only in the Kingdom but also within the broader region.
The French Ambassador praised the robust and cordial relations between the two countries, highlighting their cooperation, particularly in the academic and scientific fields.
He stressed the importance of continued collaboration between Vatel Bahrain and the French Embassy in the upcoming period.
The ambassador acknowledged the college's commitment to building on its achievements to further enhance the development of the hospitality and tourism sector in both the Kingdom and the broader region, aspiring to reach new heights of excellence