What were your duties during the UNWTO conference?
Waleed: "I was in charge of assisting the UNWTO's Secretary General and Delegates in regards of coordination between the delegation and the hotel management to provide the necessary tools to the participants of the event. The work environment and the exposure was rewarding as I was fortunate to be able to work for the highest profiled individuals in the tourism industry"
Mahdi: "I was assigned to work with Mrs. Marianne, Head of Translator. I was assisting her to coordinate all of the translations and interpreting of documents in the 5 UNWTO official languages. As well as checking the translation booths, to make sure that translators have all the necessary equipment's. During the meeting, I was assisting Ministers and Delegates for all their needs regarding translation and documentary issues. "
Joudy & Yusuf: "We were working with the Secretariat-General of the UNWTO. We were responsible for registering visitors for the Tourism Tech Adventures forum, as well as promoting the event's application. Also part of our job was to make sure that nothing was missing in the conference hall during the executive sessions and the forum."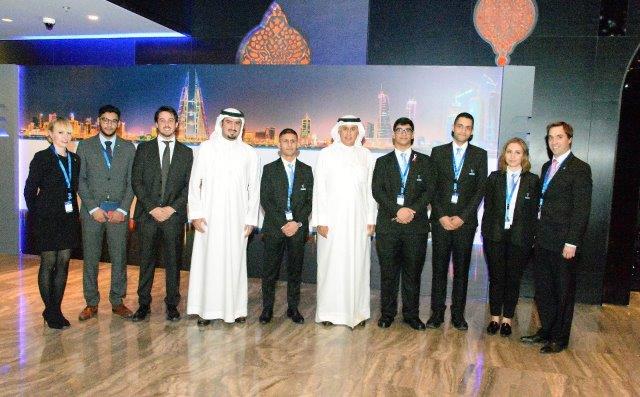 Vatel students had the privilege of welcoming H.E. Minister of Industry, Commerce and Tourism, Mr. Zayed Bin Rashid Al Zayani and the C.E.O. of B.T.E.A, H.E. Al Shaikh Khaled Bin Humood Al Khalifa to the Opening Ceremony of the 109th session of the UNWTO Executive Council meeting in Bahrain.
What did you learn from this experience?
Mahdi: "We were honoured to get to meet and talk with Ministers, Ambassadors and Delegates. We get to see how do this people interact, deal, network and work in professional way. I feel lucky to have been selected to represent the School in the UNWTO Executive Council 109th session in Bahrain."
Joudy: "I learned how to work professionally with high profile individuals. I also saw how the operations are being performed. It was a really great and unique experience working with the UNWTO".
Waleed: "This experience gave me the chance to meet with Ministers and high-profile individuals in the tourism sector. I also learned how to work under pressure and be a team player. I'm glad to have had the opportunity to be a part of this magnificent event."
Yusuf: "Being an organizer for the UNWTO team was a great opportunity that I am glad I didn't miss. It taught me the values of working as a one in a team and operating under pressure. "
Students gained a lot of experience through their participation with professionals from the hospitality sector in this World Tourism conference.